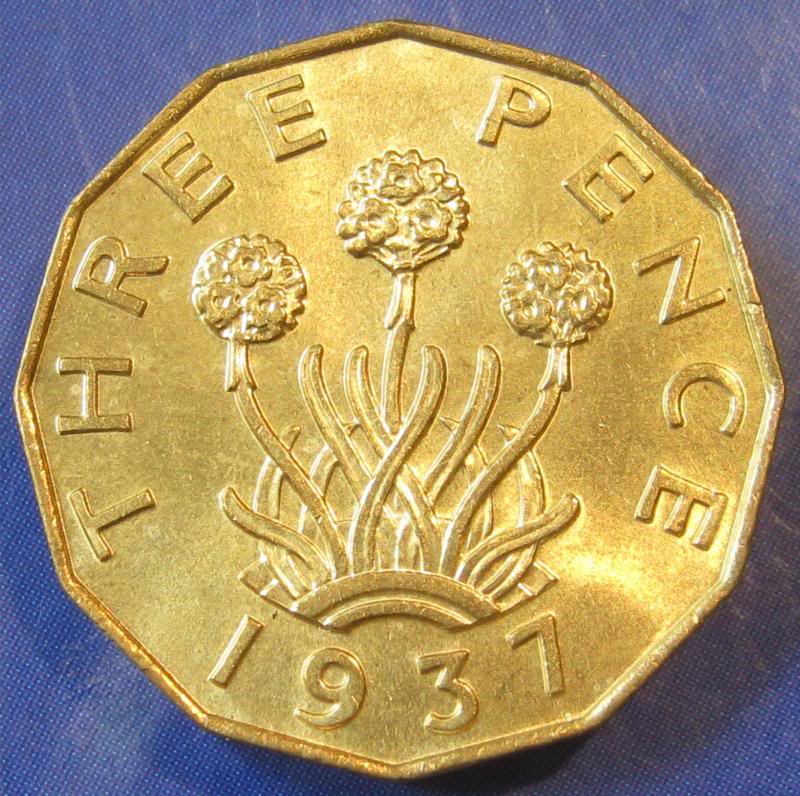 George VI Threepence
Nickel-brass dodecagonal threepences were issued in parallel with the last years of the silver threepence until 1941 - the last year of silver threepence issue for the UK. They were introduced to try and reduce the vast tonnages of bronze coinage that large organisations were handling. Peck reports that London Transport was dealing with more than 600 tons of bronze each year, and the introduction of the brass threepence was paralleled by a hiatus in the production of bronze pennies from 1940 to 1944, in an attempt to reduce this.

1942-1944 silver threepences were produced in small numbers and exported for use in the West Indies, so high grade examples are desirable and collectable. There was a 1945 coin, but apart from a single known example that escaped, the entire issue was melted down.






I always think that the George VI nickel brass threepence is rather an under-appreciated series.

There's plenty of interest and variation in scarcity. There are varieties, yes, and some have fascinating historical context to do with the loss of the Malay tin mines to the Japanese during the war, and even a few Proofs if you like Proofs.

The relative scarcity of 1946 and 1949 is obvious in the histogram, but also note the 1950 and 1951, and the little peak around 1939. It's an interesting series!

And I think they're ever so pretty in top grade.
There are minor varieties for the reverse and the obverse of the 1937 nickel-brass threepence. I don't have the patience for them, but Dave Groom details them very well. It's funny how some varieties grab you and some don't.




Reverse A

I of IMP points to a bead

1937






Reverse B

I of IMP points between beads

1938-1944

...and possibly 1937
Unconfirmed Davies 2231

As for the silver threepence, 1937 is the only year that uses Reverse A, with the I of IMP pointing to a bead. 1938 onward are all Reverse B, with the I of IMP pointing between beads. Peter Davies details the 1937 Reverse B coin as "unconfirmed". This is tantalising, as I have found a few of Davies' unconfirmed coins, so they may well be out there. I did actively look for a year or two, but I don't look any more. I
will
make an offer if anyone does find one
!


An interesting historical effect on the nickel brass threepence series is pointed out by Peck. After the loss to the Japanese of the Malayan tin mines, high quality steel became very difficult to come by, and high quality steel was required for the collars that produced the dodecagonal threepence. It was found that the collars lasted longer if rounded corners were used, rather than sharp. So part way through the 1941 run, the Mint switched to round cornered coins. Sharp are commoner, slightly.

Production of the sharp cornered coins was resumed part way through the 1948 run, and sharp cornered 1948 coins are really quite scarce. Both varieties have also been noted for 1949 threepences.
1942 is the first, and commonest, of the West Indies silver threepences.


1943 was actually minted in smaller numbers than the more well-known 1944 silver threepence.


Although originally minted in slightly larger numbers than the 1943, most of these were melted down.


note under 1941, regarding Sharp and Round cornered types of threepence for 1948 and 1949.