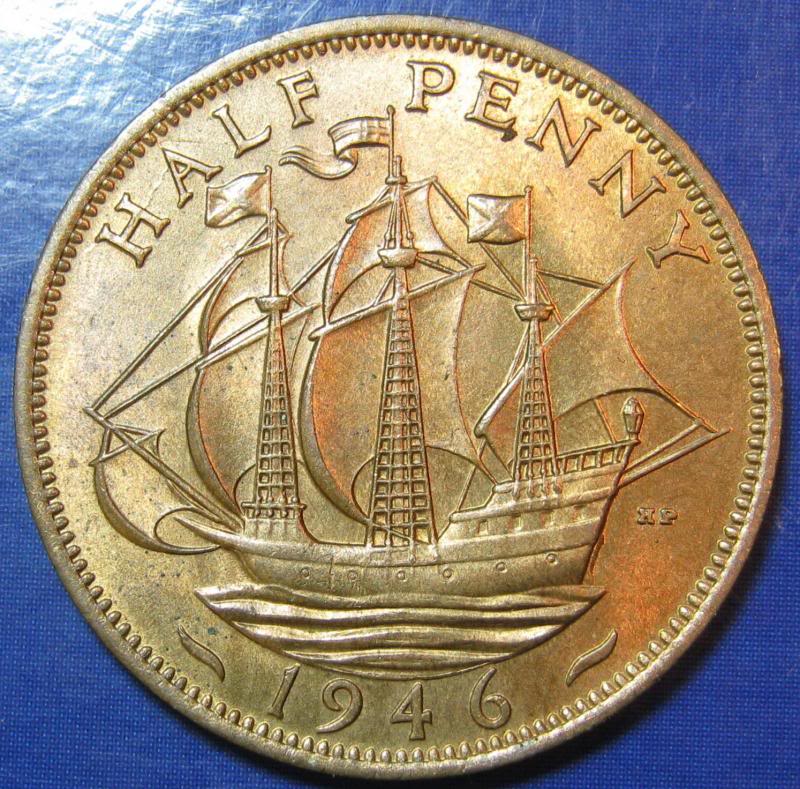 George VI Halfpennies
Uniquely, this series uses a slightly different reverse for every year except 1950 and 1951. The differences are very tiny though, and only the 1940 can be said to have genuine varieties, as three reverses are to be found with this date.
I won't detail the differences between the reverses, except for 1940. Full details can be found in Freeman.
1937


1938

1939

1940 1+D

1940 1+E

1940 1+F

1941

1942

1943

1944

1945

1946

1947

1948

1949

1950

1951

1952


Diam: 25mm, Wt: 5.7g,

Alloy: Cu:95.5%, Sn:3%, Zn:1.5%
Reverse D



L of HALF to the right of a tooth
Left leg of 1st N of PENNY between teeth
Left leg of 2nd N of PENNY between teeth
P of PENNY between teeth
A of HALF between teeth

Scarcest

Reverse E



L of HALF between teeth
Left leg of 1st N of PENNY between teeth
Left leg of 2nd N of PENNY to the left of a tooth
P of PENNY at a tooth
A of HALF to the left of a tooth

Reverse F



L of HALF at a tooth
Left leg of 1st N of PENNY at a tooth
Both legs of 2nd N of PENNY to the right of teeth
P of PENNY between teeth
A of HALF to the right of a tooth

Commonest


Reverse O