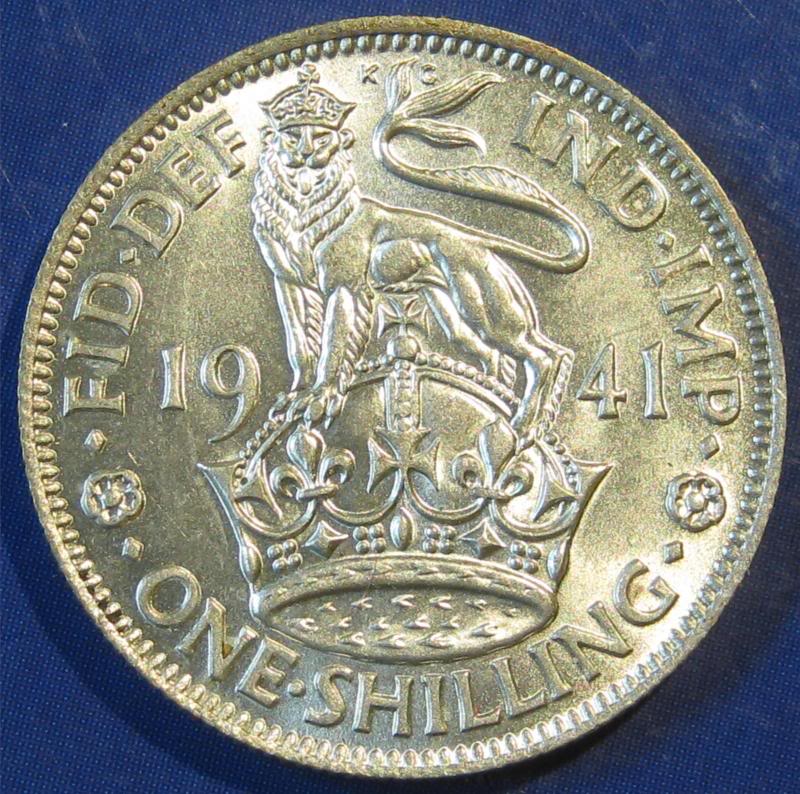 George VI Shillings
Only three changes in this series:
English Shilling Reverse A replaced by Reverse B in 1946 (a very small adjustment to the design)
The final debasement to cupronickel in 1947
The removal of the claim to India in 1949
1938 is a trickier date than its neighbours, in keeping with the principle of the "second date". People tended to hoard the first issue of a new monarch or effigy, but not the second. It is useful to compare the following date pairs with this in mind:

1887/1888

1902/1903

1911/1912

1937/1938

1953/1954
As they circulated so long, well into the 1980s, as decimal 5p, the cupronickel issues are surprisingly difficult to find in mint state. Circulated examples abound, but top grade coins are worth waiting for, if you can find them.

Look out for the inverted die axis error variety of the 1943 English shilling - they are not illustrated here because the design is not changed, but they do exist and they are rare.
English Shillings
Scottish Shillings
Why is there a stop after the date on the 1937 and 1947 Scottish shillings? I don't know :)





Reverse A

Narrow rim
I of IND points between beads
I of SHILL points between beads









Reverse B

Wider rim
I of IND points at a bead
I of SHILL points at a bead